Tuesday, September 15, 2015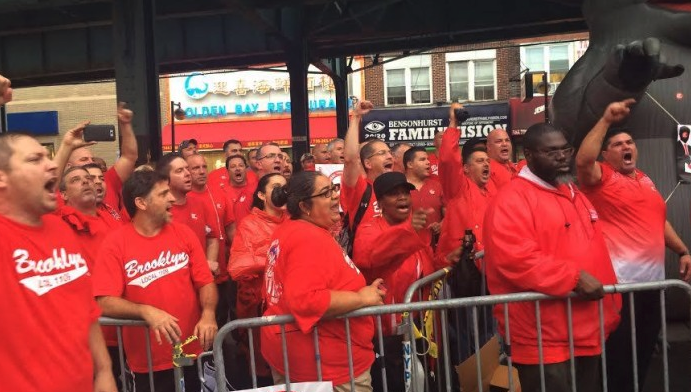 Thank you to all who came out for the Bianca Cunningham rally. It was an excellent turnout and a good show of solidarity. We want to especially thank the following elected officials who came out and showed their support.
Tish James


Public Advocate

Peter Abbate


Assembly

Bill Colton


Assembly

Rodneyse Bichotte


Assembly

Vincent Gentile


City Council

Alan Maisel


City Council

Mark Treyger


City Council 
Bensonhurst Bean: Union Members, Elected Officials Protest Verizon For Firing Union Leader At 86th Street Store
How did a Verizon Wireless employee who advocated for a bullied colleague end up with a pink slip? That question was on the tongues of many at a protest in front of an 86th Street cellphone shop last week.
Hundreds of red shirt-clad workers joined with elected officials outside Verizon Wireless (2141 86th Street) Thursday, September 10, calling on the company not to fire sales representative and union leader Bianca Cunningham. 
The union, CWA Local 1109,  says the cellular company has decided to terminate Cunningham because she was simple performing her role as leader and counseling fellow worker who felt intimidated by a superior. CWA notes that Cunningham is not the first union member to be fired by Verizon.
Continue Reading...
NYC Public Advocate Tish James Confronts Verizon Wireless manager