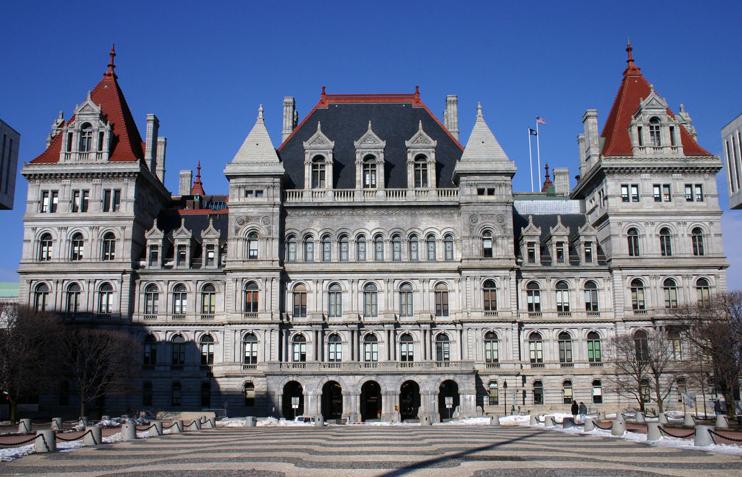 DON'T LET IT HAPPEN CALL RIGHT NOW 1109!
Public Service Commission (PSC) regulation of phone service has helped protect our jobs AND ensure quality service. Even though Verizon has successfully weakened PSC regulations, they are still important. Regulations protect service quality-and Lifeline and rural access requirements add more customers, which means more jobs. But phone service is moving to VoIP, which is currently unregulated. The PSC is planning to regulate VoIP. That's the good news. Service quality, access and affordability regulations for FiOS Digital Voice would protect CWA jobs-and VoIP customers. And cable companies would also be regulated. The bad news is Gov. Cuomo's proposed state budget includes language to permanently prohibit future regulation of VoIP service. Permanent deregulation means the PSC could never act. Ensuring consumers have service means good jobs. Deregulation has failed both workers and consumers. Call Gov. Cuomo right now.  Please leave a message asking him not to permanently deregulate VoIP telephone service.   
CALL GOVERNOR CUOMO AT 888-907-9365   
Urge the Governor not to kill New York jobs by permanently deregulating VoIP telephone service.
Albany Times Union: Internet phone oversight creates a hang-up.
ALBANY — A provision in Gov. Andrew Cuomo's executive budget designed to encourage broadband Internet deployment in the state has set off a war of words between consumer and labor groups and giant telecommunications companies like Verizon and Time Warner Cable.
Cuomo wants to clarify the state's position that it does not regulate Internet phone service, technically known as Voice over Internet Protocol, or VoIP.
The telecommunications industry has been pushing both federal and state regulators to stay away from the service.
The state Public Service Commission regulates traditional land line phone service in New York, with Verizon the largest provider. In recent years however, as Verizon has faced intense competition from VoIP providers like Time Warner, Vonage and others, the PSC has eased its regulatory oversight on the majority of the company's phone operations.
Verizon is facing a potential $400,000 fine for failing last year to restore service quickly enough following tropical storms to so-called "core" customers such as those with special needs or low-income customers in Verizon's Lifeline program. The PSC has maintained that Verizon must focus on this smaller segment — about 8 percent of its customer base — in exchange for lightened regulation.
Verizon would benefit from Cuomo's plan because it offers VoIP through its FiOS fiber optic service that is available in some parts of the state, including suburban Albany County and the city of Schenectady along with Scotia.
The Cuomo administration says by being clear that it does not intend to start regulating Internet phone service, it will provide a signal to the telecom industry that they will not face high regulatory costs in the state if they decide to build or expand here.
But a coalition of labor and consumer groups says Cuomo is really sending the wrong signal and that by keeping the state's hand off Internet phone service, it is opening the door for abuse.
"You wouldn't let a fox guard a hen house," said Bob Master, Political Director for CWA District 1. "So why would Albany ever let TimeWarner, Cablevision, and Verizon police themselves? Leaving consumers at their mercy is a recipe for higher phone bills and lousier service."
The state AARP also said that the state should not "concede" its oversight responsibilities by throwing away its ability to protect low-income consumers.
Verizon and others meanwhile, say New York would be bucking the trend by trying to regulate the Internet.
"Our position is that it simply is in keeping with the national policy on VoIP, which is to not regulate this emerging technology," said Verizon spokesman John Bonomo. "VoIP is an optional service that brings a wealth of options and features to consumers, and benefits to the economy in terms of greater competition and services. Several states have passed similar legislation."