Monday, September 9, 2013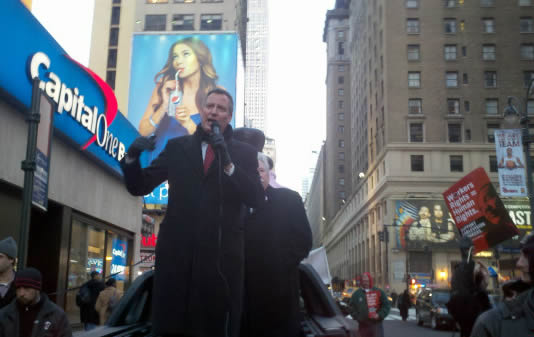 We have been working hard for our candidate Bill de Blasio for weeks now and the Primary elections are here; Tuesday, Sept. 10th. There has been much publicity about the Democratic Primary for Mayor and we want to remind all the registered Democrats in our union to get out and vote for de Blasio and all the CWA endorsed candidates below. It's our duty to encourage our friends and neighbors to do the same. Polls are open from 6 am to 9 pm and you can vote at your regular polling place. The phone number for the NYC Board of Elections is 866-VOTE-NYC if you have questions on polling place locations or voting eligibility. So go out and vote and exercise one of your greatest American rights - the right to vote!  
City Council:
Antonio Reynoso for District 34.
Williamsburg and Bushwick, Brooklyn; Ridgewood, Queens. 
Kirsten Foy for District 36.
Bedford-Stuyvesant, Crown Heights 
Kim Council for District 37.
East New York, Bushwick, Cypress Hills, City Line, Ocean Hill-Brownsville and Wyckoff Heights 
Dr. Mathieu Eugene for District 40.
Kensington, Prospect-Lefferts, Ditmas Park; parts of Crown Heights, Flatbush, East Flatbush 
Jumaane Williams for District 45.
Flatbush, East Flatbush, Flatlands, Midwood 
Alan Maisel for District 46.
Bergen Beach, Canarsie, Georgetowne, Starrett City, Flatlands, Futurama, Marine Park, Mill Basin, Mill Island, Gerritsen Beach, Madison and Sheepshead Bay 
Todd Dobrin for District 47.
Coney Island, Gravesend, Bensonhurst, Brighton Beach