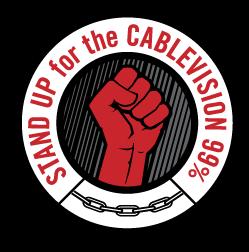 Many of you may have read the article in the NY Post today. In typical fashion the Post ran an anti-union article, which was factually untrue. This is nothing new! As many of you remember the Post wrote many negative articles during our, recent contract dispute with Verizon, painting our membership as villains and spoiled troublemakers. The truth was we did not disrupt last night's event in any way shape or form. We chose not to set up in front of the Hard Rock Café, where the event took place. We had a band from Local 802 musician's Union playing Christmas Carols. We made a flyer (text is below), which talked about the Great Work of the Lustgarten Foundation. The Post was also inaccurate in its depiction of a rift between Local 802 and CWA, or any other Union. The Local 802 Vice President attended our event to offer support, as well as leaders from the Central Labor Council. John O'Connor recording vice president local 802 stated; "We support Cablevision workers 100%, that's why I'm at this rally. Dolan wants people to think he's a nice guy, we're out here telling the truth about how he treats working people."
---
The Good Work of the Lustgarten Foundation
Welcome to the Lustgarten Annual Fundraiser. As employees of Cablevision, we support funds going to curing Pancreatic Cancer. It is important work that offers hope to thousands of people suffering from such an awful disease.  
We are troubled, however, that Cablevision CEO James Dolan seems willing to offer hope to those suffering from cancer, but wants to strip away all hope from his own employees. Dolan Acts Like Ebenzer Scrooge With His Own Workers
While James Dolan tries to project a positive image for himself amongst the philanthropic community, he acts much more like Ebenezer Scrooge to his hard working employees at Cablevision. Many of us lack affordable health benefits to provide for our families when illness hits. James Dolan must agree, because he recently made a change in medical coverage to make it more affordable for his employees. That is,all his employees with the exception of Cablevision workers in Brooklyn.
Dolan Punishes Cablevision Techs in Brooklyn
Cablevision employees have been negotiating with Dolan's lawyers for almost a full year, and to date, Cablevision hasn't offered even one penny more in wages, or health coverage. James Dolan himself told the workers that he would punish us for daring to vote for a union, and now he is following through on that threat. Tell James Dolan to stop discriminating against workers for exercising their democratic right to form a Union.
We think Scrooge himself would take great comfort in knowing that Dolan is continuing with his greedy tradition.
For more information, visit www.thecablevision99.org