Tuesday, February 12, 2013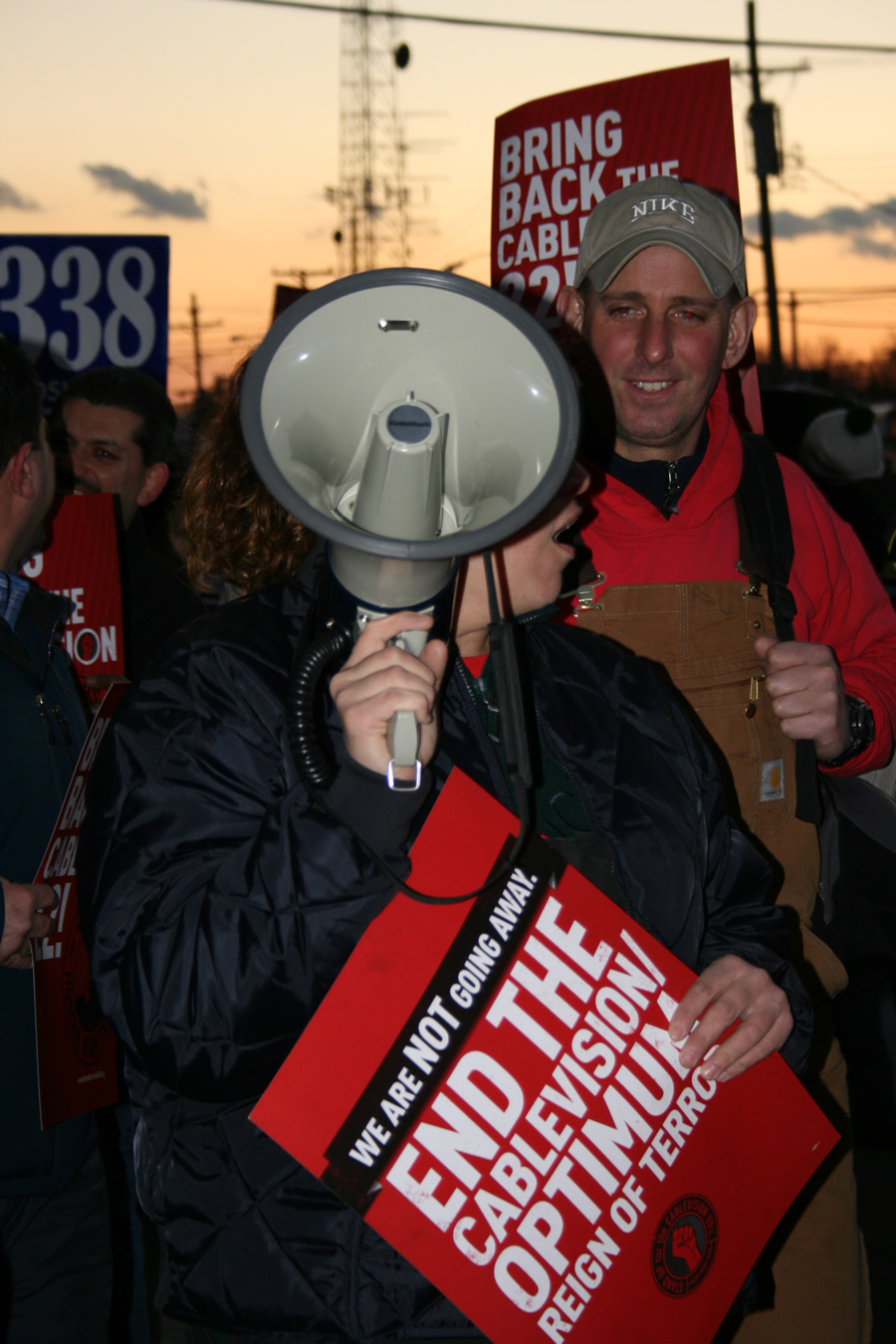 By MICHAEL POWELL, New York Times
Cablevision takes pride in its open-door policy for employees.
So two weeks ago, a tight-knit band of cable television installers gathered at a company depot in Canarsie, Brooklyn, to pick up route sheets and put ladders and tools in their vans. Then they trooped inside to ask a vice president for a few minutes of his time.
Last winter, these workers overcame fierce management opposition and voted to join the Communications Workers of America, only to spend nine months in rancorous contract talks. They wanted to ask the vice president if Cablevision was serious about a contract agreement, or if it wanted only to break their union.
They waited for 20 minutes to talk, then 20 more. La'kesia Johnson, 44, grew restless and walked to the front office. A manager told her to go back inside. Then the vice president walked in and asked, essentially: Who's supposed to be working now?
Every worker, 22 in all, raised a hand.
"Ladies and gentlemen," the vice president said, according to multiple accounts, "I am sorry to tell you that you've all been permanently replaced."
"I said, 'Whaaat?' " Ms. Johnson says. "Replaced? You just fired us? You don't even know what we want."
Ms. Johnson says the vice president looked at her and stated: I don't care what you want.
Unions are in the definition of an existential crisis. Michigan, a cradle of labor, passed a law greatly curtailing union power. New York is Democratic Party blue, but the percentage of private sector employees who are union members has dwindled into the single digits.
Some unions are insular and self-interested, and a few are corrupt. But the battle, arduous and uncertain, of a few hundred broad-shouldered men and women to organize a union in Brooklyn underlines the extent to which union organizing has become a clamber up a Himalayan rock face.
Unions win just 50 percent of elections; then they successfully negotiate an initial contract just half of the time. The National Labor Relations Board is a dog missing teeth. If workers engage in an illegal strike, the board legally must seek a court injunction. If a company illegally fires workers, the board takes months to investigate and cannot levy any fines.
James L. Dolan, the owner of Cablevision Systems Corporation, sings in a rock band, hangs out along the baseline at Knicks games, and slaps hands with his multimillion-dollar unionized athletes. But in the hard-tack precincts of his empire, the guys and women who climb poles and crawl through basements, he takes pride in not stomaching union drives.
His Fortune 500 company started an anti-union Web site and hired an anti-union law firm. Two weeks ago, a company official sent an e-mail explaining where the remaining workers could learn about decertifying their union.
Cablevision workers are not impoverished. But neither are they paid as well as their unionized brethren at Verizon. Cablevision insists that it pays an industry "standard." But, it notes, no union company is the "'standard."
I asked Charles R. Schueler, a company spokesman, about the firings. He said that "22 employees refused to go to work after multiple requests to do so." The workers, I noted, all said they intended to work that day. He repeated his original statement. He also said that Cablevision negotiated in good faith. Then he said: "That leaves us with the issue of your conflict. You ready?"
Sure, I replied.
You, he said, are a vice chairman of a Communications Workers of America union.
He's got me, sort of. Like most reporters at The New York Times, I'm a member of the Newspaper Guild, which is part of the C.W.A., which has about 140,000 members in the Northeast. I receive no union pay and I have no duties. I'm also a Knicks season-ticket holder and a Cablevision cable customer.
I pay far more to Mr. Dolan's companies than I pay to my union in dues.
With that, back to the story.
Ms. Johnson feels guilty she persuaded her colleagues to risk being fired. She speaks of waking in the middle of the night and of bills piling up. Her husband is a freelancer; they depend on her health benefits. "It's stressful — the air in our house is very thick," she says.
The Council speaker, Christine C. Quinn, notes Cablevision holds an exclusive franchise in the city, and plans to hold hearings on these firings. But the bad news piles up for these workers. Last week, some Cablevision workers filed for a vote to decertify the union.
"Sometimes I break down," Ms. Johnson said, and asks herself if she had been selfish. "But my husband reminds me: 'You have a home family and a work family. You must be loyal to both.' "
E-mail: powellm@nytimes.com, Twitter: @powellnyt