Tuesday, January 17, 2012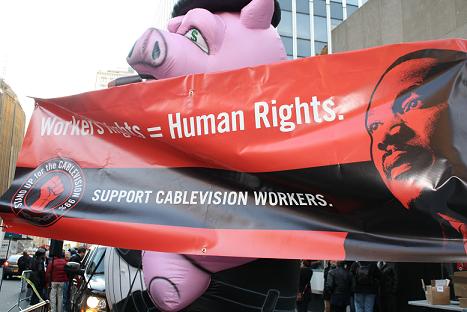 Cablevision's Brooklyn workers are tired of their poor working conditions, lousy healthcare coverage and sham retirement plans. While the 99% at Cablevision are trying to make ends meet, the top six executives raked in $75 million in 2010 and the company pulled in $361 million in profits. Cablevision's workers are demanding the right to join a union and negotiate a fair contract that will provide the job security and compensation necessary to support their families. A NLRB supervised union election is scheduled for Thursday, Jan. 26th.
Check out their website: www.thecablevision99.org and 'like' their Facebook page, cwabrooklynvision. The committee is hanging tough despite a scortched earth anti union campaign. 
On Jan. 16th, hundreds rallied outside of Madison Square Garden during a Knicks Basketball Game. Volunteers leafletted people to inform them of Cablevision's intimidation tactis against its workforce. On MLK Day, Rev. Al Sharpton lent his supprt to the Cablevision workers at an MLK event in Harlem. A video of the entire days event will be posted on this website upon its completion.
"Injustice anywhere is a threat to justice everywhere." - Dr. Martin Luther King, Jr.
At Cablevision, Expected to Install Everything Except a Union
By MICHAEL POWELL, New York Times
 January 16, 2012
They describe themselves as beaten-up workhorses, these burly fellows with linebacker shoulders and bass-register voices.  Four men sit in a union hall on a darkened stretch of Utica Avenue in Brooklyn, talking about life as cable installers for Cablevision and efforts to bring in a union, in this case the Communication Workers of America.
"It's very hard to retire here. You get hurt, you can't work as hard and you disappear," said Steven Ashurst, a 54-year-old with a shaved scalp who lives in Crown Heights. "I've had shoulder surgery. You haul that ladder, climbing poles, crawling through basements, half an hour for lunch."
He shrugs. "You start to take insane risks. That's why I signed a union card."
Once upon an age, this was a routine conversation in New York, skilled blue-collar workers talking union. No more. Labor, after many missteps, is in an existential struggle, and corporate America long ago started firing howitzers.
Cablevision Systems Corporation, run by James L. Dolan, has hired a premier anti-union law firm. The company began an internal Web site called "Why Union Free?" and required 285 Brooklyn employees to attend anti-union meetings. The union vote is Jan. 26.
Mr. Dolan's other company, the Madison Square Garden Company, is engaged in a shootout with Time Warner. The only victims so far are 1.7 million cable customers who cannot watch the Knicks and Rangers on the MSG Network. Last year, a blackout might have been a mercy killing. The teams are competitive now, and the loss is felt.
Industry analysts cheer on such fights, against unions and for higher cable rates; all is fair in pursuit of a higher stock price.
Last decade, the Communication Workers lost a similar battle with Cablevision, but this struggle has a different feel. In the Occupy age, thousands of houses sit in foreclosure in Brooklyn, and labor marches with kids through the streets. These workers sound disinclined to stand down. They describe driving past Verizon workers, who are represented by the union. The Cablevision workers make $25,000 to $55,000. Their Verizon competitors make at least one-third more.
"I do eight installs in a day," said Lawrence Hendrickson, 36, who rents a place in Canarsie with his wife and children. "The Verizon guys are making practically double what I'm making. And don't even ask me about Dolan."
Mr. Dolan pulled down more than $13 million at Cablevision last year. His MSG gig kicked in $2 million or so. Conditions for workers at Cablevision are not Dickensian. The company offers health benefits and a 401(k). No Cablevision technician has been laid off. After that, though, facts get fuzzy. Charles R. Schueler, a company spokesman, said Cablevision salaries were "highly competitive" with those of Verizon. He could offer no numbers. And Cablevision's Web site says the company did not include Verizon in "compensation analysis surveys." "No union company," it states, "is the 'standard.' "
I asked Mr. Schueler about the contradiction between his statement and the Web site. "I would just stick with my statement," he advised.
At this point, Mr. Schueler noted that the union spent a quarter-million dollars to send workers on a "junket" to Las Vegas. The Communication Workers in fact held their national convention in Las Vegas. At the same time, Cablevision executives get drivers and cars, free cable and security, and private helicopters and airplane travel. Perhaps one man's junket is another man's necessity?
"You can use whatever word you want," Mr. Schueler said. "I consider a trip to Vegas a junket."
Cablevision officials say that the union will demand "obedience" from workers, and that unions are a corrupt vestige of a less free age. One company sort drove to an anti-union session in a Lexus. That didn't go so well. He switched to a Chevy Trailblazer.
"It's like you're under siege," one cable technician, Charles Wilson, 57, said, his voice rich with the rounded vowels of his native Grenada.
Listen hard enough in this union hall on Utica and mostly you hear four black men talking about their pursuit of the American dream. They want enough money to buy a small home and have enough left to help a child with tuition or an elderly mother with home care. They'd like a comfortable retirement. For this, they will work hard.
"Every time I climb a ladder, I think of my family," Mr. Hendrickson, the Canarsie resident, said. "We're the guys at the low end of the totem pole. I just want enough to reach my dreams."