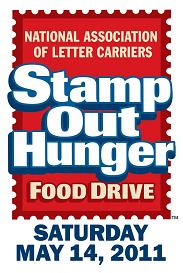 Simply leave non parishable food items in a bag for your union letter carrier on Saturday, May 14th. The food collected will be brought to sort locations and then distributed to soup kitchens, food pantries and children and senior centers across Brooklyn. You may also bring food to your post office.
Donating food simply isn't enough, union volunteers are need to help stack and sort the thousands of pounds of food. Call the union office or go to helpstampouthunger.com for more information. This volunteer experience is a great event for your kids to get involved in. Vols get a t-shirt and lunch and volunteers are needed from Saturday through Wednesday - so there is plenty of opportunities to help out and represent your community and our union.
Check out the Public Service Announcement from Nick Cannon and listen to the above audio clip from UCOMM Radio promoting the Food Drive.